A Literature Analysis on Riau Malay Identity Politics
Kata Kunci:
Literature Analysis , Riau Malay , Identity Politics
Abstrak
The purpose of this study is to investigate the political identification of the Riau Malay population. This research employs a qualitative, literature-based methodology. According to the findings of this study, the Malay culture has deep historical roots in the Riau region. The Malay culture has created a sign that distinguishes it from other cultures. The Vision of the Riau Government reflects the Malay culture as the identity of the people of Riau. The Malay community identifies four aspects of its customs: actual custom, the custom, the most traditional customs, and Adat Istiadat, which oversees the polarisation of Riau Malay culture. At the reign of the Riau Malay sultanates, Malay, the political identity of the Riau Malay community, was the official tongue. Malay is currently utilised as a technique of distinguishing social groups. The identity of Malay is derived from a complicated interaction between society and language. Islam's arrival in the Riau region has had a profound impact. Integration of Islam and Malay culture has become a defining characteristic, as evidenced by the fact that, according to Malay conventions, a non-Muslim is not considered a Malay.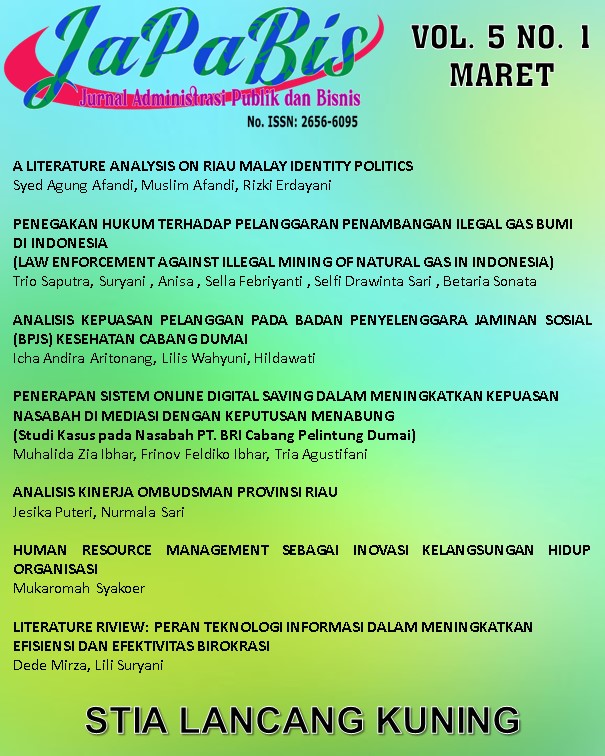 Unduhan
Lisensi
Hak Cipta (c) 2023 Jurnal Administrasi Publik dan Bisnis
Artikel ini berlisensiCreative Commons Attribution-ShareAlike 4.0 International License.